Annecy, between lake and mountains
Does the Small Venice of the Alpes need to be introduce? Full of history, cultural facts, sport activities and shops, Annecy is a dynamic attractive place to live or visit. Known for its pure water lake and its gorgeous mountains around. Which sport activity will you chose during your stay in Annecy?
Every hill or mountain around Annecy is filled with nice forest trails which are awesome to ride on an mountain bike. Good news! We have been on many of those trails and selected the best to ride. From beginners to expert riders, follow us throughout the trails of our original town (yes, our team was born and raised there)
Have you got a precise plan? Let's talk. We can create a tailor e-bike tour for you close to Annecy and deliver to bike directly to you.
THE perfect place for all levels, with suc a wonderful view over the lake. The Col de la Forclaz is the palce where paragliders take off before they flight over the lake. Many itineraries start from the Col de la Forclaz (ideal for beginners) and offer marvellous views over the lake while riding your e-bike. Some trails are steep enough to amuse the best riders, and will allow them a great downhill (still with the view) (40min from Annecy's city center)
The Semnoz and the Mont Veyrier are very-well known after-work places for Annecy sporty citizens. You can find great trails to ride for all levels. (15min from Annecy's city center)
Located between Annecy and Thônes, Dingy offers a great playground with nice views and a variety of grounds. (20min from Annecy's city center)
E-Mountain Bike Rental in Annecy
Want to find out the tracks by yourself? Order your bike rental online with delivery to Annecy and its surroundings.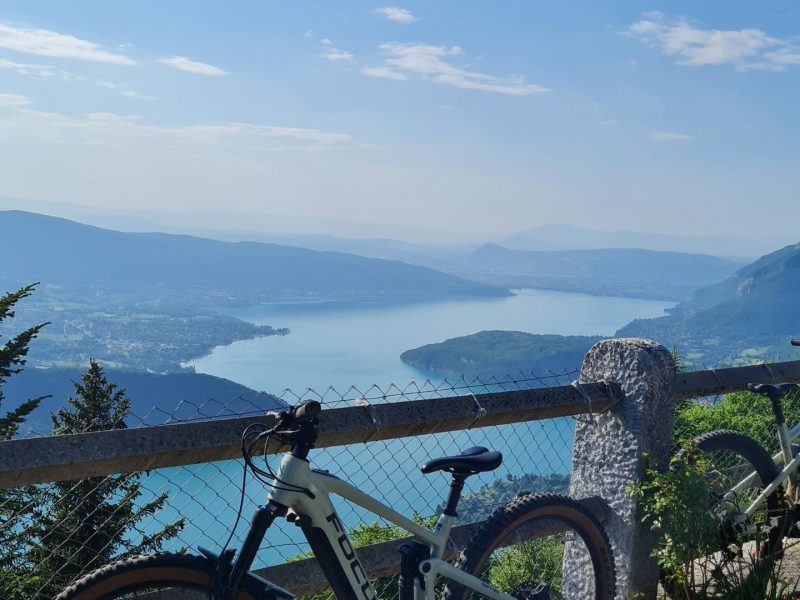 The Lake of Annecy and its outdoor activities
Half an hour driving from Annecy, Le Grand Bornand and La Clusaz welcome you for a variety of outdoor activities. The playground around is grand.
For a shot of adrenaline, take a wakeboard session Call les Frères Coin-coin (The Duck Bros) on our behalf and book yourself on a great wakeboard or wakesurf session on the lake
Fancy a bath? Want to chill on the lake, staring at the sky and the mountains around? Les Frères Coin-coin also have pedalboats, paddle for rent as well as motorboats to rent
How beautiful the lake is seen from the sky… Green, blue, so many colors to enjoy. Book yourself of a paragliding tour above Annecy. Call Adrénaline Parapente to book a flight.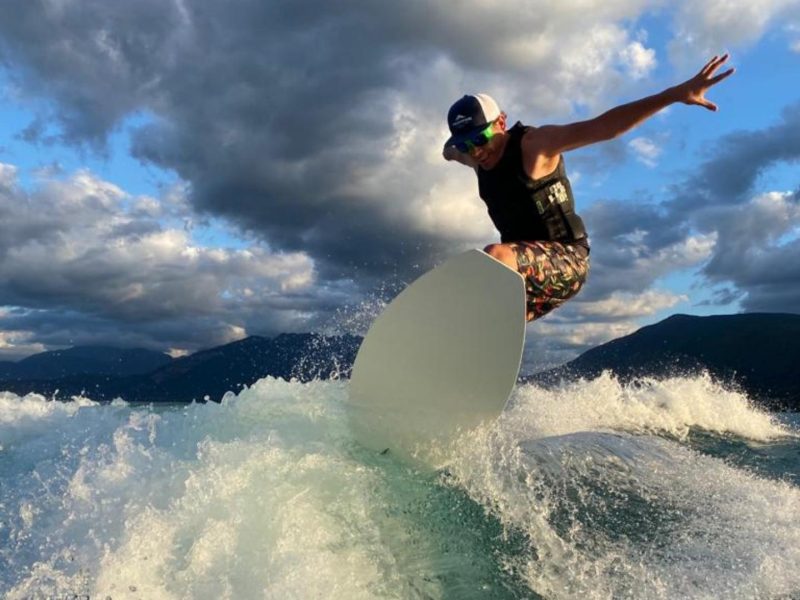 Had you heard? The Origins of the Lake of Annecy
Formed at the end of the Würm glaciation (between 17000 and 15000 BC), Lake Annecy is the second largest lake of glacial origin in France. But Myths and Legends also exist about this lake.
Author of the book "Le lac d'Annecy, sur les traces de ses légendes" (Lake Annecy, in the footsteps of its legends), Nicole Gilloz-Mathis tells us: "In time immemorial, God entrusted three angels with the mission of watching over one of the wonders of his creation: the Northern Alps. One, day, however, God decided to give its guardians the responsibilties of take care of other not so peaceful places. The angels, who couldn't stop looking at such a wonderful Nature had their hearts broken. Each one fo left dropped a tear on the ground, that instantaneously turned into a great river. This is how the three biggest alpine lakes of the Savoie region were created: the Lake of Annecy, the Leman lake and the Bourget Lake.", she said.
Believe it or not, shall you prefer the rational story of its creation, it is still a wonder of nature to admire.
Known under the name "Annecy Mountains", the ski resorts of the Aravis chain are beloved places to go to ski and enjoy the mountains for Annecy citizens. Le Grand Bornand and La Clusaz are located 30 minutes drive from Annecy, driving pass Thônes. If you are travelling to Annecy for work or leisure, taking a tour to the Annecy Mountains are a must. For one day or two, you can enjoy the calm, peaceful mountains. Reach the Aravis easily from Geneva via Petit-Bornand or from the Arve valley via the Colombière pass.