The Arav'e-Bike team is made up of two outdoor sports enthusiasts who spend their time hiking, skiing or riding to the top. What do we have in common? In addition to the small bike that keeps cycling and cycling in our head, we have a (big) weakness for the Aravis chain, nature, good products from our region and the sharing of this pretty combo… Hence the birth of Arav'e-Bike. Discover our story.
The technical face of the school is Alexandre.
Mountain bike and ski and snowboard instructor in winter time. Alex plans the itineraries, prepares the bikes, maintains them and supervises our tours in the Aravis mountains. He finds the best itineraries (as well as those to be avoided!) and takes you to discover them.
The commercial and digital part is Marion.
E-bike instructor and shop manager. Ace of Tetris, between 2 mountain bike tours, she handles emails and bookings. on a daily basis. EShe will advise you on the best choice of rental or outing to book. Marion does not hesitate to help with the maintenance of the bikes.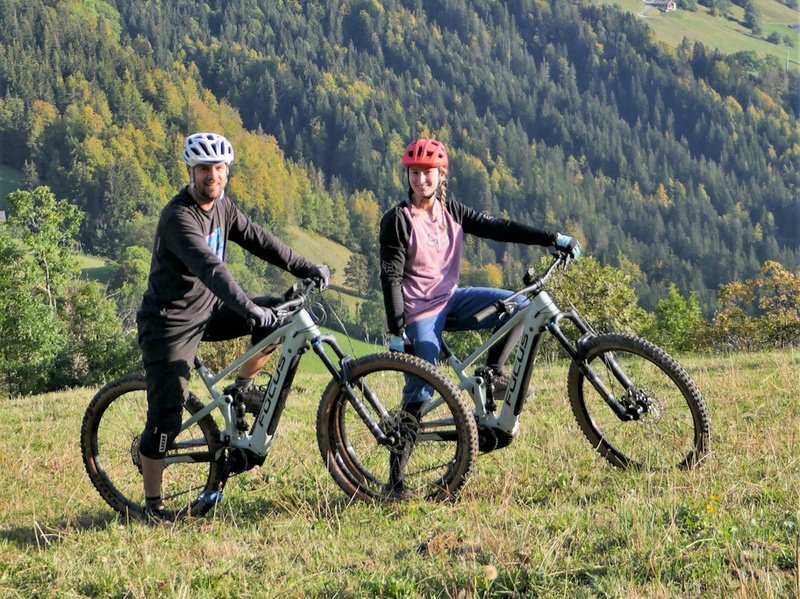 Marion worked for a long time in the sales office of ski schools. After a master's degree in Sports and Mountain Tourism Marketing, she managed a marketing project in Tarentaise for two years. From there, she had the keys in hand to launch her project and her training as a mountain bike instructor.
Alexandre has always embraced change and seized opportunities for evolution. Recently Operational Director of a ski school and a craftsman, he knows his way through management and entrepreneurship. This was very useful to launch Arav'e-Bike.
Le Grand Bornand, the place to ski
After 21 years of skiing only in Le Grand Bornand, Marion left to discover other ski areas. A few seasons in Tarentaise later, she returns to Le Grand Bornand, the place where she feels at home. Alexandre has skied and taught snow sports in many resorts, but Le Grand Bornand has always held a special place in his heart. So it was logical to come back and settle there.
Starski ski school, the springboard for Arav'e-Bike
"Tell me Alex, when are you coming back to Grand Bornand?" repeated Jerome, in vain it seemed, for years. Jérôme and Jérémy, both managers of Starski, have been keen to develop summer activities in Chinaillon for a long time. When they told us that it was a shame that their place was empty during the summer, we finally gave in. "You could use it to launch your school and fill it with e-bikes for example?" And why not finally? One Covid Lock-down later, we took this proposal literally.
The co-managers, delighted to see that the machine was taking off, advised us and answered all our questions. By lending us their commercial space, they proved to us that there was no reason not to start. Plus, the Electric Mountain Bike is also practiced on the snow, a real plus for the partnership of our 2 structures.

ARVI'PA (Goodbye, as the Savoyard people say)