Electric Mountain Bike on snow
Unusual escape on a fatbike in Grand Bornand
Dare to escape on the snowy paths of Grand Bornand, La Clusaz or Saint Jean de Sixt on our e-bikes.
Discovery of the practice
Sporty tour in the powder
Discover electric mountain biking on snow with our instructors on the fatbike trails. Day or night escape, join a group session or privatise your own tour for your group. Easy or sporty tour, everything is possible. From 12 years old for the family tour, and from 14 years old for the funky and sporty tours.
In winter time, safety = Guided tour.
Our bicycles are not available for rental in winter for safety reasons. The snow, the ice, the early-falling night, the quality of the snow,… Mountain biking on snow is very different from regular mountain biking. So we change the saying and we can assure you: Better to be well accompanied than alone!
FOLLOW OUR INSTRUCTORS TO ACCESS THE TRAILS ADAPTED TO ELECTRIC MOUNTAIN BIKING ON SNOW.
In group, in family or solo, privatise an instructor for your fatbike adventure. Itinerary and schedules tailored to your desires. For a downhill ride, a few hours, an evening or a day.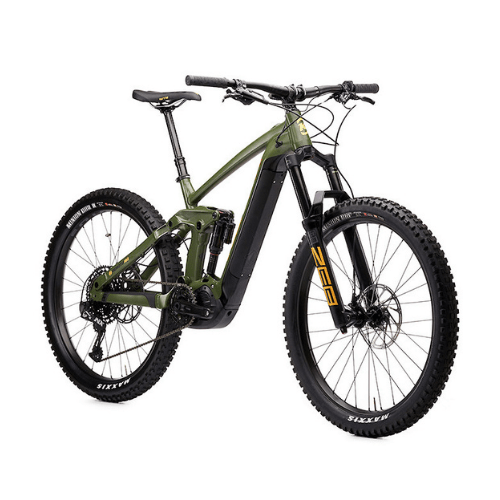 An electric downhill Fatbike
Our snow biking trips are done with "classic" electric mountain bikes, which means that they are not only used on snow like fatbikes, but also on trails all year long. However, we equip them especially with even wider tires, depending on the model, with sharp studs. It is the equivalent of the Fatbike but a little more maneuverable and 4 seasons. On snow, mountain biking or VTTAE is more focused on flat or downhill riding, because of the difficulty to ride a bike on snow.
Our Fatbike Tours Terms and Conditions
For your safety and in order to give you all the necessary advice, the e-Bike on snow is only available when guided by a bicycle professional, trained in the practice of this activity in snowy conditions.
Safety requires the right equipment. Our prices include a bicycle helmet (if you don't have a ski helmet) to guarantee your safety, but also lights for night rides.
Stay dry and warm during this activity by wearing waterproof and breathable ski clothes, as well as gloves (no mittens) and small après ski to be comfortable on the pedals.
During our e-bike rides on snow in Grand Bornand, you will learn how to drive your e-MTB, how to manage the battery and its power, which can be your best ally or your worst enemy on the snow.
The Noct'e-Bike or Funk'e-Bike are downhill rides, the lift is provided by the ski lifts. During Chinaill'e-Bike or Sixt'e-Bike rides, you will have to insist more on the pedal, thus doubling the effort. The Famil'e-Bike ride is quieter and mostly flat, making it more accessible.
Frequently Asked Questions